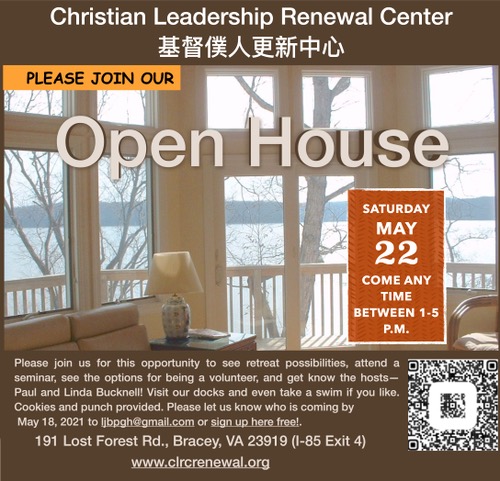 For detailed info, please click the PDF file. and Open House Letter
April 29, 2021
Welcome to CLRC!


CLRC'S OPEN HOUSE CELEBRATION
Christian Leadership Renewal Center
Saturday, May 22nd from 1:00-5:00
191 Lost Forest Rd, Bracey, VA 23919
————————
Sign up here or send an email to Linda at ljbpgh@gmail.com
We look forward to meeting you!
————————

While some of you are familiar with CLRC, many are not. This is an excellent time to drop by our Leadership Training Center to view our scenic retreat site with comfortable housing and an awesome lake view classroom.
Who's invited to this open house? We welcome all Christian leaders (pastors, elders, missionaries, deacons, youth leaders, small group leaders) as well as those who might want to consider volunteering (kitchen, grounds management, prayer team, online media, sound system, etc.).
Cookies and punch served all afternoon. Park on the gravel. Paul will host a fifteen-minute presentation in the classroom (1:30, 2:30, 3:30, 4:30). Enjoy exploring the grounds, docks, buildings. Have some fun! It's a time to know us and the campus. Due to the water and cliffs, we require each person to complete a liability form.
The Christian Leadership Renewal Center (CLRC) aspires to be a place where Christian leaders find refreshing and illuminating times in God's Word, gain a growing faith, and strengthen skills to equip you to more effectively lead and teach His people. It's beneficial to come aside for a fresh word from God in a quiet and restful place. We believe God seeks to empower His servants at this unique time in history for revival.
God strengthens His people in various ways. We offer individual retreats where church leaders (not just pastors) can privately seek Him in His Word at our beautifully-situated site on Lake Gaston, VA. CLRC has scenic deck views, paths along the lake shore, a well-equipped Christian library, access to BFF's resources, fishing, and relaxing time by the water. These and much more provide a great opportunity to refresh body and soul.
We also encourage your family or small group to come for a time together. Rent one of the houses and make your own meals! Or hold your own training here.
We offer monthly training seminars with the purpose that as God's Spirit uses His Word He will renew our hearts and lives. Our smaller-sized groups and singular focus, combined with small group fellowship, prayer, and free time become great times for God to work in our lives.
About Us
Paul and Linda Bucknell worked as missionaries (OMF missionaries in Taiwan) during the 80s and pastored in the States during the 90s while raising a large family. The Lord led Paul to develop
Biblical Foundations for Freedom
(BFF) in 2000 and since has created many training seminars, written more than twenty books, and taught many international leadership training seminars. Topics include spiritual development (discipleship training, overcoming series (fears, worries, lusts, etc.), family (marriage and parenting), and Biblical training (Bible presentation, devotions, Bible books, etc.) and leadership development. [Click to see more
seminars
; here to see
Paul's books
.
Generally, Paul offers a monthly seminar in English. If you gather 10-20 people for special training, please contact us and tell us how we can meet your specific needs as a small group, church leadership team, group of pastors, etc. Again, feel free to see how our facilities can meet your needs. Handouts are included for each seminars.
Other training options include: group viewing of video training series on a certain topic, time with specific questions addressed by Paul (and Linda for family) and small group discussion for application.
Though Covid guidelines are loosening, we ask anyone with Covid symptoms to refrain from visiting. While we fully respect your use of vaccines and masks, we don't require them. We strive to maintain clean and hygienic facilities.
In Christ's Majestic Service,
Paul
Rev. Paul J. Bucknell
CLRC: Executive Director, Trainer/Mentor
BFF: President, Author, Instructor, Church Consultant
412-398-4559
clrc.pb@gmail.com

Book a date at the center for your church, personal renewal, or join a training seminar!